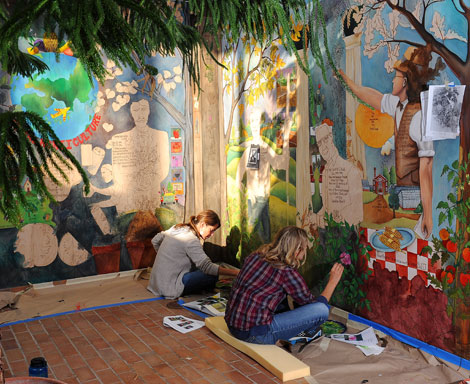 About the Art
The atrium of Horticulture Hall showcases Iowa State University's rich history in horticulture through burned wood and vividly colored painted panels that surround the viewer. Installed in 2011, the panels consist of painted flowers, fruits, vegetables, and ornamentals developed by notable horticulturalists. The panels reference horticulturists Spencer Beach, Griffth Buck, J.L. Budd, Charles Hall, George Washington Carver, Louis Pammel, and A.E. Cott. At Iowa State University, these specific individualists had significant roles in horticulture research, teaching, plant development, propagation, and turf management. Through Sarah Grant and her company Sticks, Inc.'s signature wood burned text, their stories are enhanced.
The apple tree sculpture that stands tall between two colorful murals was installed in 2015, four years after the original mural with a Dragon tree (Dracaena) was placed in Horticulture Hall. The tree's base, along with more colorful agriculture painted on, includes a short description, telling the story of how the Red Delicious apple originated in Peru, Iowa. By observing this art, the viewer recognizes Iowa as an important part of the history of agriculture.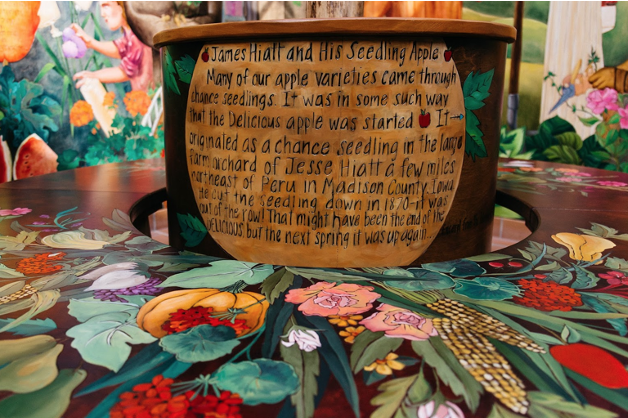 Base of Apple Tree, 2015, Horticulture Hall, Ames, Iowa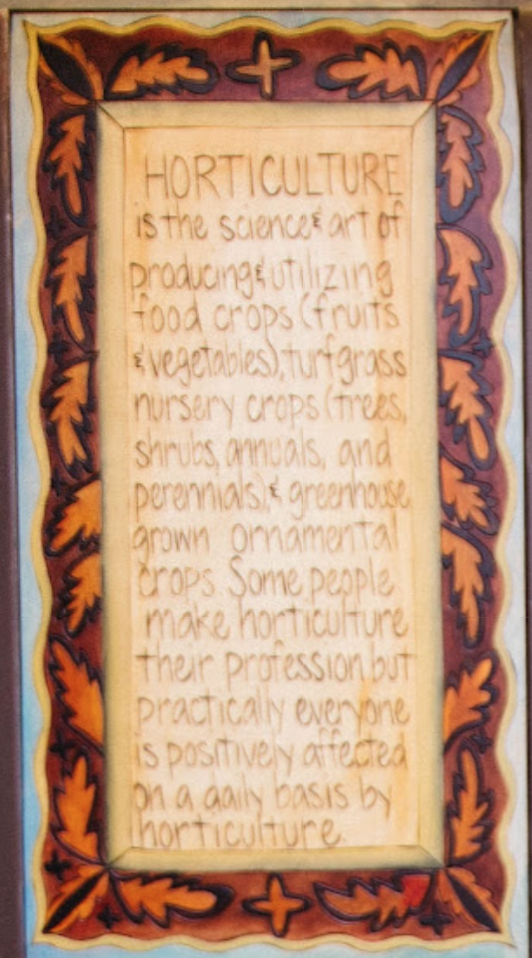 Quote on back wall next to window of Horticulture Hall, Ames, Iowa
About the Artist
Originally born in 1953 in Rochester, New York, Sarah Grant grew up in Ames, Iowa. After earning a Master of Arts degree in intaglio printmaking in 1978 and a Master of Fine Arts degree in painting in 1980 from the University of Iowa. Sarah Grant has been customizing decorative objects and carving wood sculptures since 1985. Interest in her artistic imagery and technique inspired her to form her nationally recognized manufacturing company, Sticks, Inc. in 1992.
Sticks, Inc. manufactures furniture, accessories, and sculptures at scale for domestic and office use. These collective employs artists who paint and create custom furniture and objects, under the creative direction of Grant. Every piece of artwork created by Sticks, Inc. is handcrafted from birch, poplar, and driftwood within their award-winning design studio in Des Moines, Iowa.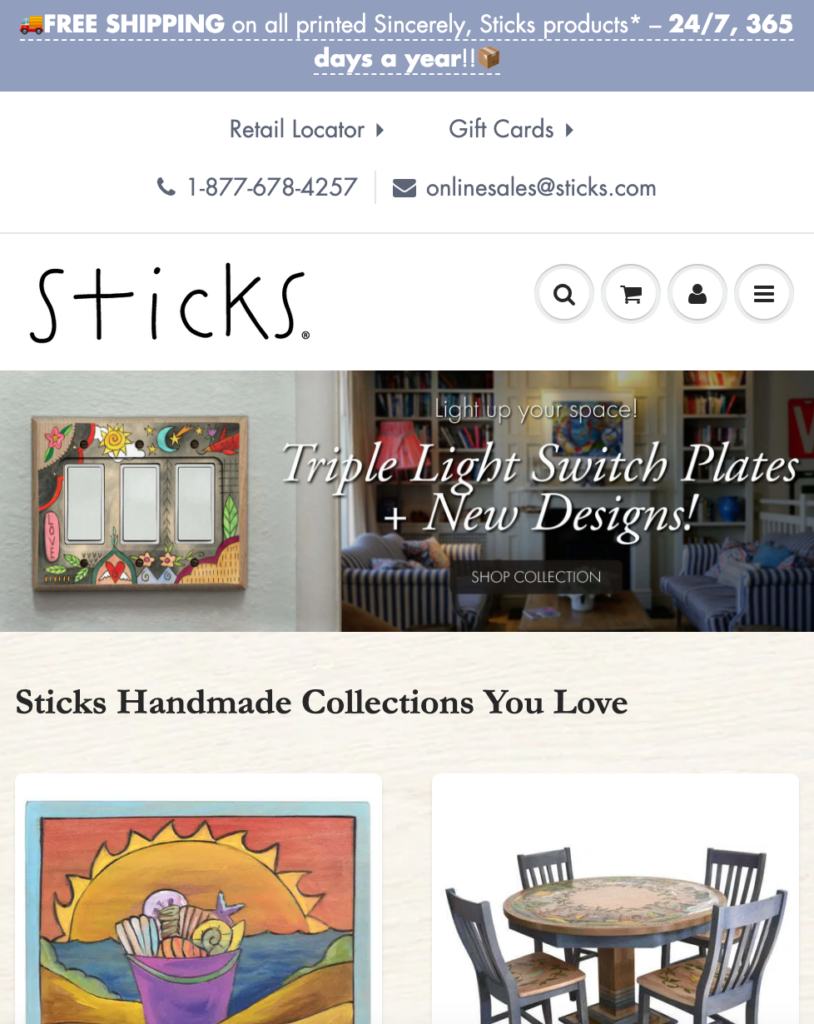 Website – https://sticks.com/
Sarah Grant's American craft-style art is demonstrated across Iowa State University's campus with over twelve major art installations and fifty individual works of art. In addition to public art, Sarah's paintings and her company's functional and object art is now represented in over 100 galleries nationwide. Below you will find examples of these works.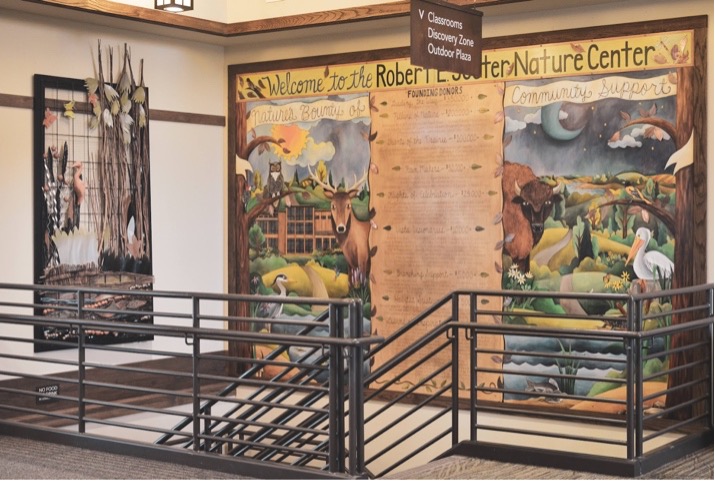 Jester Park, 2017-18, Rober E. Jester Nature Center, Granger, Iowa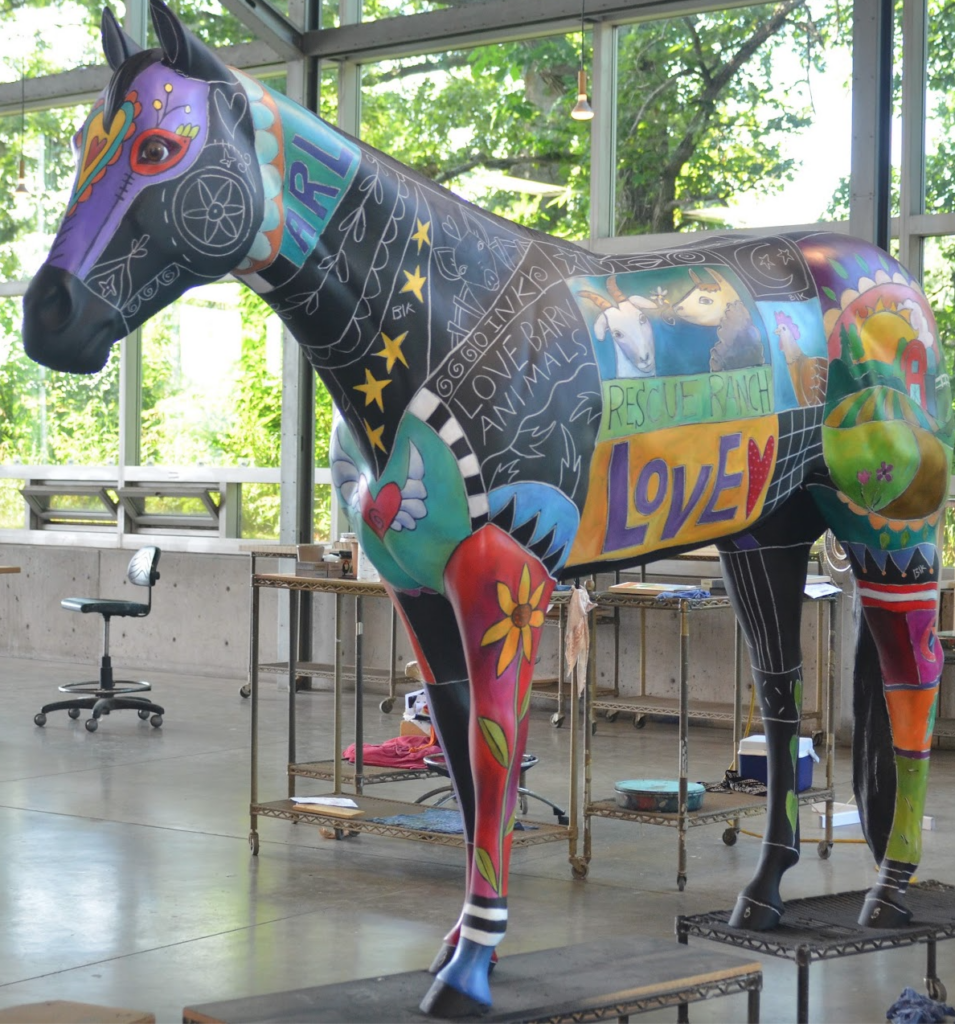 Horse, Animal Rescue League, 2014, Ankeny, Iowa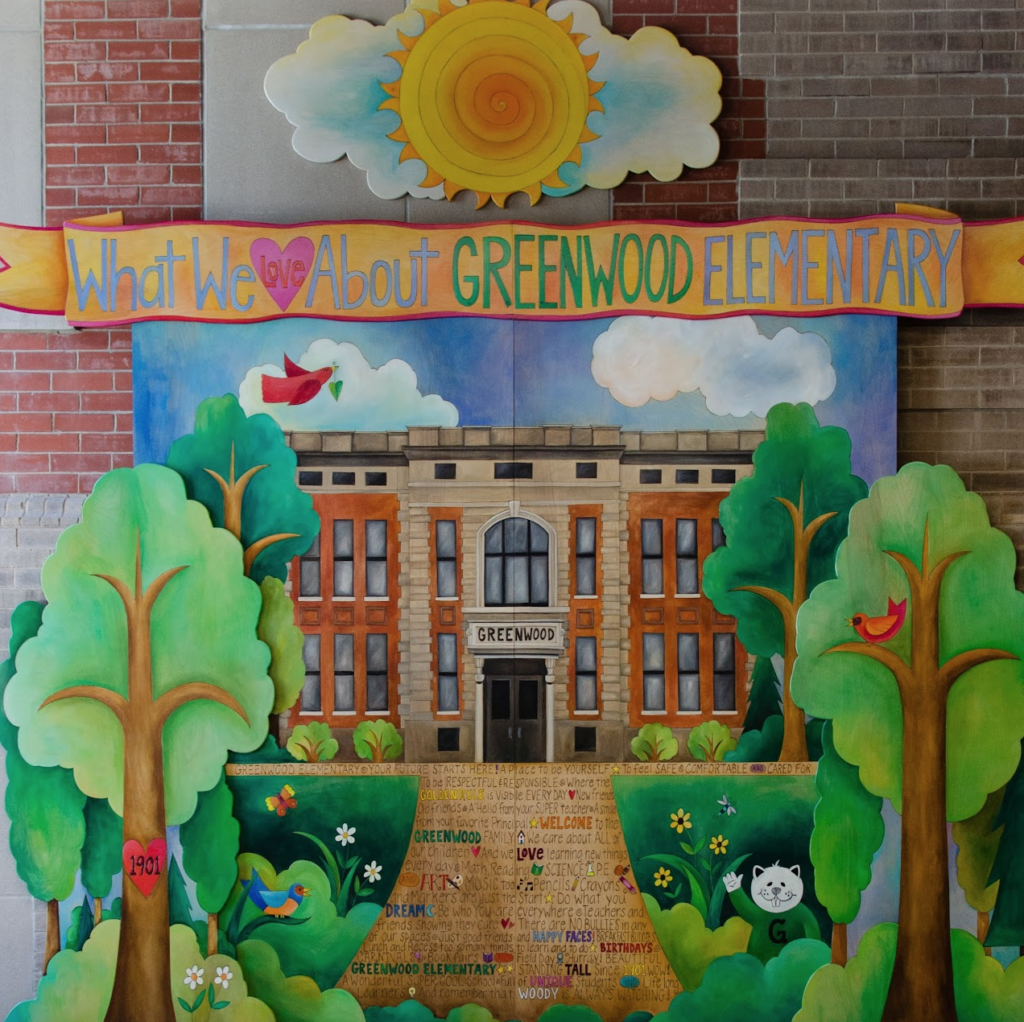 Greenwood Elementary, 2018, Des Moines, Iowa
Relevant Terminology/History
A panel painting is a painting made on a flat panel of wood, either a single piece or a number of pieces joined together. Until canvas became the more popular support medium in the 16th century, panel painting was the normal method, when not painting directly onto a wall (fresco) or on vellum.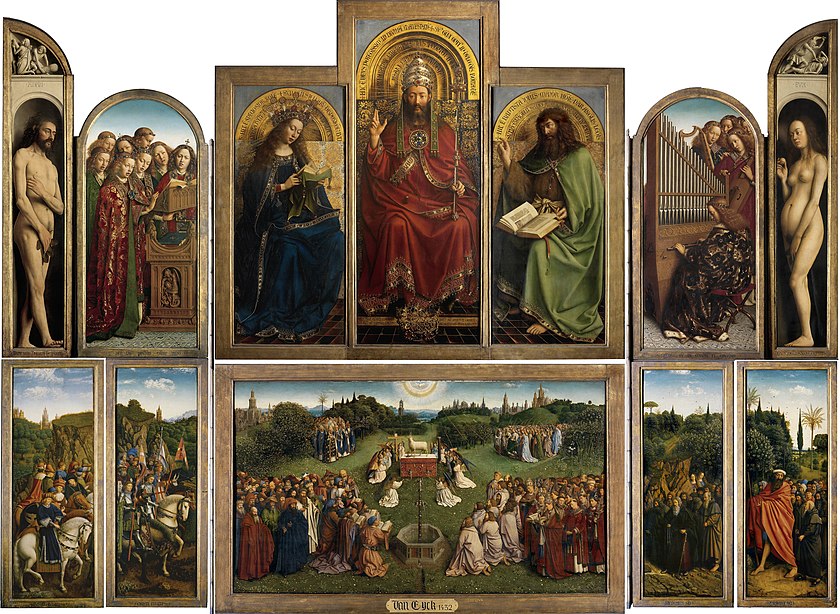 The Ghent Altarpiece, by Jan van Eyck and his brothers, 1432. The altarpiece is considered a masterpiece of European art and one of the world's treasures, marking the transition from Middle Age to Renaissance.
A mural is any piece of graphic artwork that is painted or applied directly to a wall, ceiling or other permanent substrate.
A chance seedling is a plant that is the product of unintentional breeding.
George Washington Carver was an American agricultural scientist and inventor who promoted alternative crops to cotton and methods to prevent soil depletion. He was one of the most prominent scientists of the early 20th century. Carver established an agriculture extension in Alabama and founded an industrial research lab where he worked tirelessly on the development of hundreds of applications for new plants. Carver discovered more than 300 uses for peanuts and hundreds more uses for soybeans, pecans, and sweet potatoes.
But before his inventions, in the late 1880s, Carver applied to several colleges before being accepted at Highland University in Highland, Kansas. When he arrived, they refused to let him attend because of his race. This did not discourage Carver. He was encouraged to apply to college again by his art teacher who recognized his talent for botany. In 1891, he was the first black student at Iowa State University. Carver's Bachelor's thesis for a degree in Agriculture was "Plants as Modified by Man" dated 1894.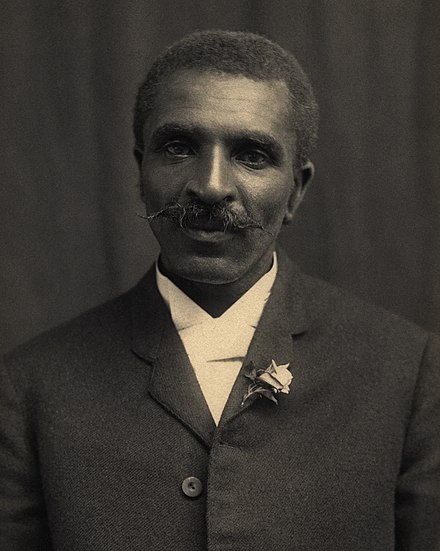 Carver in 1910, image courtesy of Wikipedia
Red Delicious Apple: The Red Delicious Apple variety was discovered in the 1870's as a chance seedling growing on Jesse Hiatt's farm in Peru, Iowa. Thinking of it as a nuisance, Jesse tried to chop down the seedling several times, but the tree would repeatedly grow back. By the time it had grown back for the third time Jesse decided to allow it to grow and produce apples. In 1893, Jesse took his apple, which he called the "Hawkeye," to a fruit show in Missouri. Following the show, Stark Brothers Nursery purchased the rights to market the apple and began to propagate this apple under the name "Stark Delicious."
In 1914 the "Stark Delicious" became the Red Delicious so that it wouldn't be confused with another apple tree, the "Golden Delicious" that was also marketed by Stark Nurseries. With its dark and crimson color, sweet and mild flavor, and strong shelf appeal, the Red Delicious has become the quintessential and most famous American apple variety.
Red Delicious apples are best eaten fresh or used in fresh preparations because the flesh does not hold up well when cooked. Because of the deep, crimson-colored skin, the Red Delicious apple is also higher in antioxidants than many other apple varieties.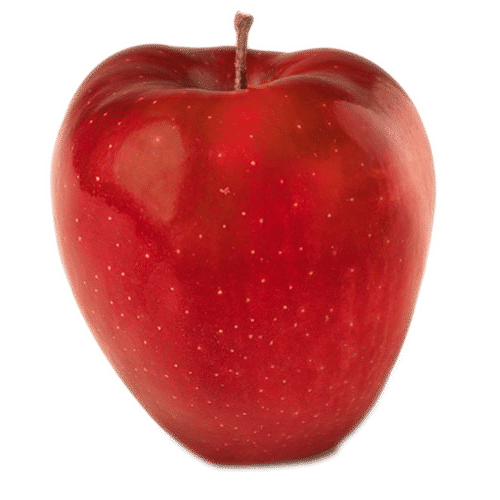 Image courtesy of Wikipedia
The ISU Horticulture Hall includes approximately 7,500 sq. ft. of laboratory space divided among the research faculty. Horticulture graduate students have access to several of ISU's cutting-edge instrumentation and analytical facilities required for plant biology research. These include Genomics, Next Generation Sequencing, Proteomics, and Metabolomics platforms, Electron Microscopy Facility and other imaging technologies, Bioinformatics and Biological Statistics Center, Biofuel/Bioeconomy Institute.
*Fun fact: George Washington Carver was the first black student at Iowa State University (began in 1891) and the first black member of the faculty of Iowa State University. He received a Doctor of Humane Letters from Iowa State University in 1994.
Learning Guide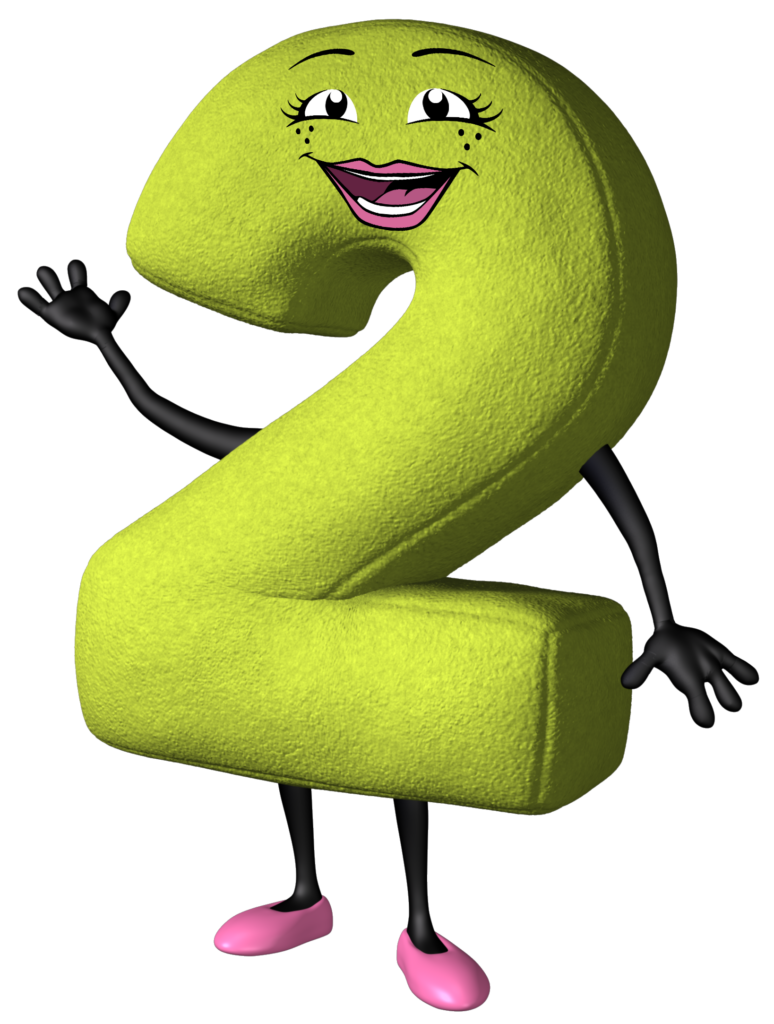 What do you think the title has to do with the art?
Why do you think Number Character 2 is speaking about the art?
How does the red image with white numbers relate to the art? Can you find the shape in the art?
How does the hidden blue image relate to the art?
What is your response to the question Number Character 2 poses in the spread about ISU Horticulture…Looking Ahead…Cultivating Knowledge Now?
The tree on the right is a Dragon Tree. The tree on the left is a Red Delicious Tree. Do you think both are living trees? What makes you think so?
When you make apple pie, do you use Red Delicious apples? If not, which apple variety is your preferred variety?
What do you see behind the windows in the art spread?
Can you find the electrical outlet and door handle in the art spread?
What do you think the cream/white object is next to the large window? How did you decide?
Reference the image of the quote next to the window. What is the difference between annual and perennial plants? Trees and shrubs? Do you have any in your garden?
How many of each item below do you see in the art?

Pineapples?
Bunches of grapes?
Red apples?
Corn on the cobs?
Yellow lilies?

Can you find any pentamerous flowers in the art? If so, where do you see them and how many do you see? (Refer to Hidden Gems for definition of pentamerous plants.)
Why does the art not cover the windows, electrical outlet, door handle and the mysterious cream/white object?
Do you think pineapples came from apples? Why or why not?
The quote on the base of the pot holding the Delicious Apple Tree suggests that the Red Delicious Apple was started as a chance seedling. What do you think that means?
What food is George Washington Carver best known for?
The quote at the top of the art "The Golden Door of Freedom" is attributed to George Washington Carver. What might that have meant to him?
What is your favorite image in the art? Why?