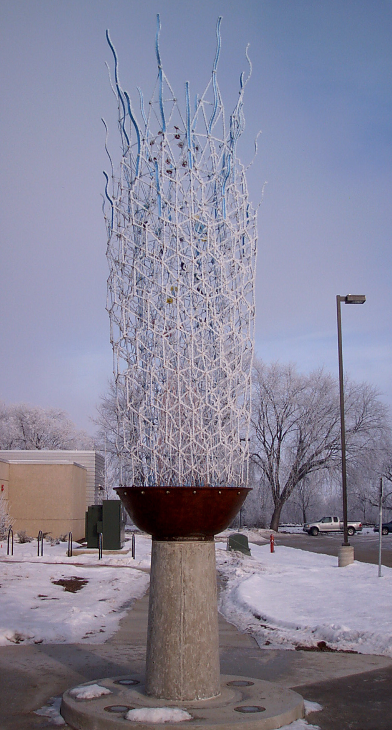 About the Art
Located at the entrance of the Environmental Health and Safety Department at Iowa State University, Crucible reflects the department's mission to transform frequently harmful chemicals into simple, safe molecules.
The sculpture, installed in 2005, contains a symbolic flame that destroys toxic substances and in turn contributes to a healthy and safe campus. The concrete monolith, cast iron bowl, and stainless steel spatial matrix create a starstream and are a metaphor of dematerialization. Cellular matrixes are built from multi-layered and multi-colored geometric frameworks. The matrixes contain various combinations of embedded artifacts, glass, ceramics, metal and LED lighting relating to the mission, history, and influences of the Environmental Health and Safety Department. The resulting sculpture became a landmark public sculpture that enhances the sense of community and place.
About the Artist
Brower Hatcher attended Vanderbilt University School of Engineering in Nashville, TN and received a degree in Industrial Design from Pratt Institute in New York. He studied sculpture with Sir Anthony Caro and William Tucker at the St. Martins School of Art in London, UK. Hatcher, born in Atlanta, GA in 1942, has built over 30 public art projects throughout the US. He currently works at the historic Steel Yard in Providence, RI as the artistic director of Mid-Ocean Studio, Inc.
Examples of Hatcher's installations follow.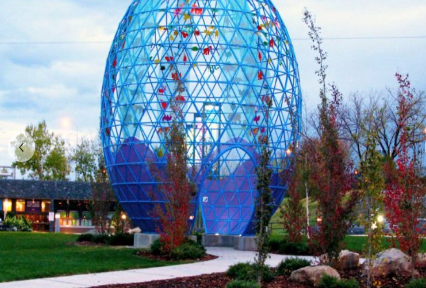 Egg – The Unity of Diversity, Calgary Zoo, Calgary, Canada, 2016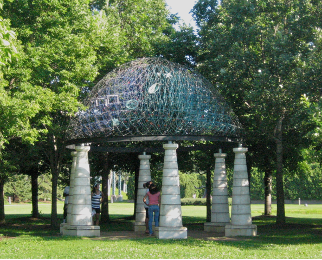 Prophecy of the Ancients, Walker Art Center, Minneapolis, Minnesota, 1988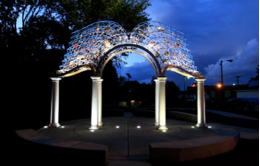 Gateway of the Open Book, Downtown Greenway, Greensboro, North Carolina, 2012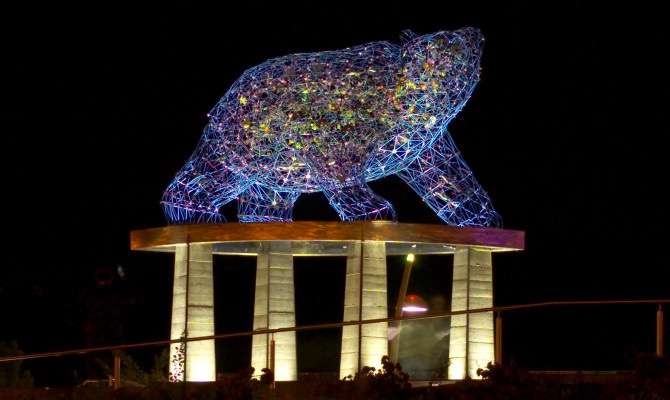 Bear, Stuart Park, Kelowna, British Columbia, Canada, 2010
Relevant Terminology/History
A crucible is a melt-proof melting pot used for very hot chemical reactions.
A matrix is a rectangular array or table of numbers, symbols, or expressions, arranged in rows and columns, which is used to represent a mathematical object or a property of such an object.
The Crucible is a Tony award-winning 1953 play by American playwright Arthur Miller. It is a dramatized and partially fictionalized story of the 1692-1693 Salem Witch Trials in the Massachusetts Bay Colony. It tells the story of a village that becomes embroiled in a witch hunt. The people of Salem lived in a constant state of fear as more and more people were accused of witchcraft. In the play, people lose their freedom and lives because they do not conform to norms and because people are swept away by fear and anxiety.
Miller wanted to send a message about intolerance and hysteria in The Crucible. He wanted to highlight how both can lead to humans being illogical and inhumane towards other humans.
Miller wrote The Crucible as an allegory of McCarthyism when the US government persecuted individuals accused of being communists. Miller was questioned by the House of Representatives' Committee on Unamerican Activities in 1956 and was convicted of contempt of Congress for refusing to identify others as demanded.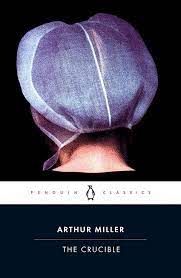 Cover of The Crucible, 1953, Arthur Miller
Fun Fact: Arthur Miller's play Death of a Salesman is considered one of the best American plays of the 20th Century. One of his wives was Marilyn Monroe.
Learning Guide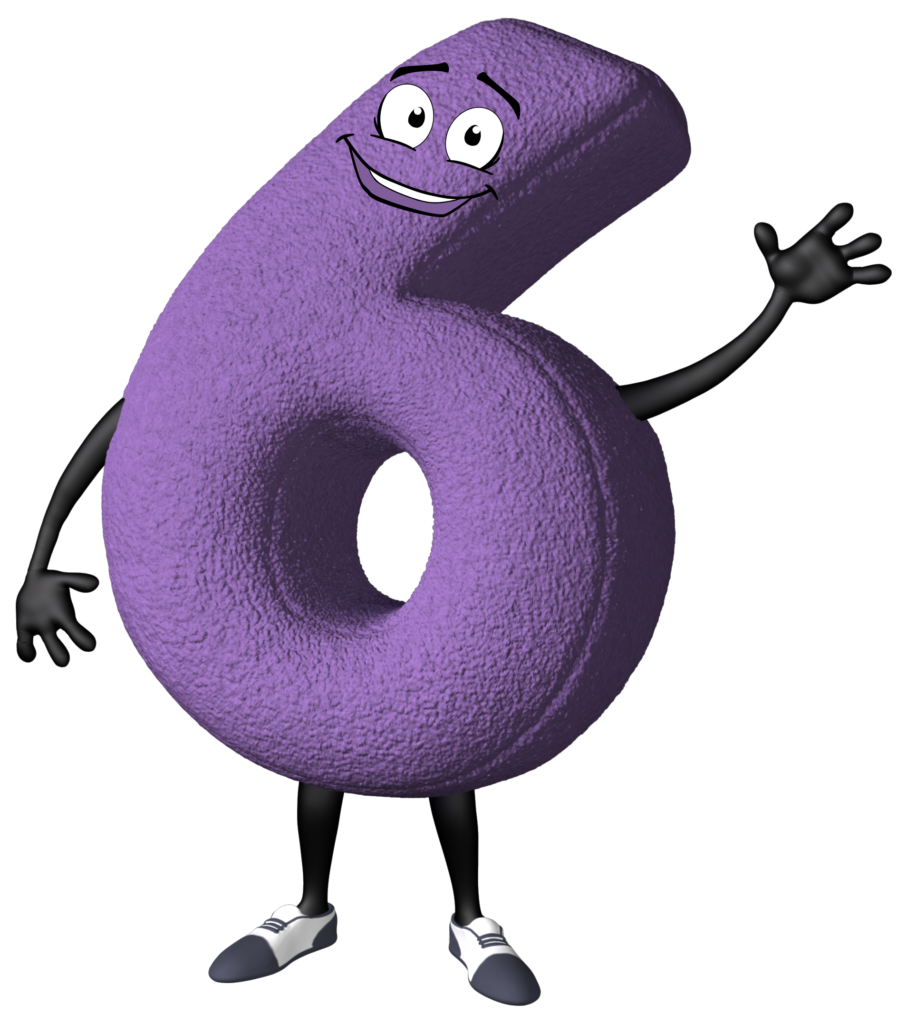 What do you think the title has to do with the art?
Why do you think Number Character 6 is speaking about the art? Why do you think Number Character 6 is speaking upside down?
What is your response to the question Number Character 6 asks in the physical book?
How does the red image with white numbers relate to the art?
How does the hidden blue image relate to the art?
What part of the sculpture is the actual crucible?
Do you believe Hatcher's training as an engineer influenced The Crucible? If so, how?
Did you read The Crucible by Arthur Miller in high school? Were you aware it was written as an allegory of McCarthyism? Why would someone write an allegory?
Why do you think the play was called The Crucible? What was the metaphor for the melting pot?