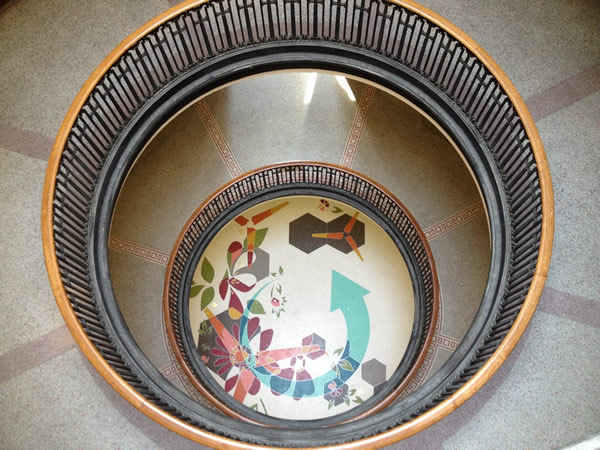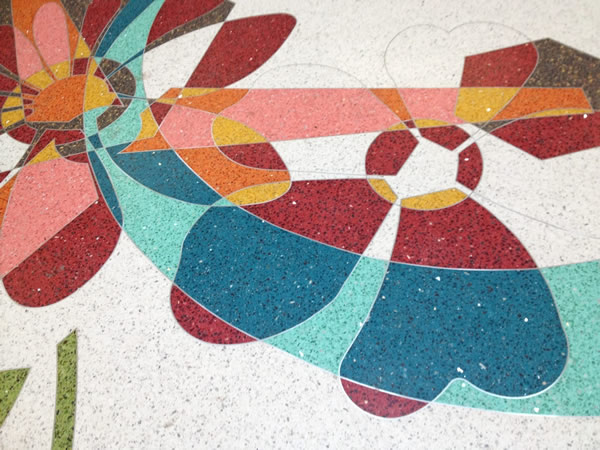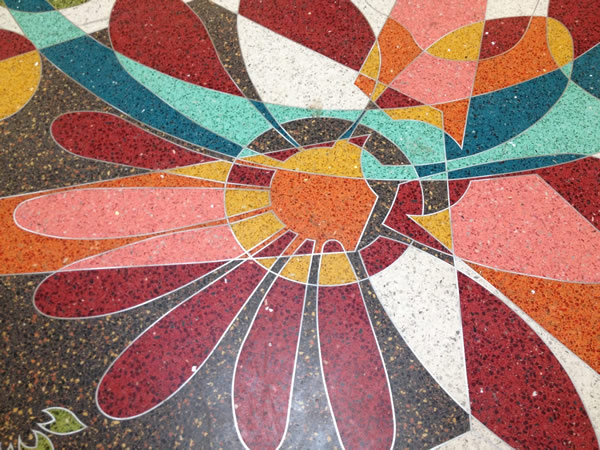 About the Art
All the Way Home is an integrated terrazzo floor with brass and bronze insets. It is located on the main floor of Curtiss Hall (Agricultural Hall) of ISU. It was installed in 2013 on a passageway many students cross, yet likely ignore, while walking on it.  Once passersby look down from higher floors of Curtiss Hall they can view how the vibrant and beautiful pieces fit together like a puzzle.  The complete image is a thought-provoking look at how agriculture shapes humanity and how humanity shapes agriculture. The art is a mixture of geometric and natural shapes, and of abstract and literal representations of Iowan agriculture. The blue arrow is connecting all the other pieces of this giant floor puzzle together, and wherever the arrow touches another shape, there is this great layering of colors that make the piece so intricate. 
About the Artist
Julie Chang is a contemporary artist who likes to "use patterns to disrupt the way people normally see." Chang works primarily with painting and printmaking. She is a San Francisco based artist (b. 1979) whose work investigates how identities are constructed and how misunderstandings of both self and others might be resisted, subverted, and reimagined. Chang received her MFA from Stanford University in 2007, her BA in Sociology from Tufts University and her BFA in Studio Art from the School of the Museum of Fine Arts in 1999. Her work has been exhibited nationally and internationally: San Francisco Art Institute; Stanford University; Tulane University; Iowa State University; Yeditepe University in Istanbul; Asian Art Museum in San Francisco; and the ceiling of the W Hotel (currently the Hotel Washington) in Washington, DC.
Examples of Chang's art follow.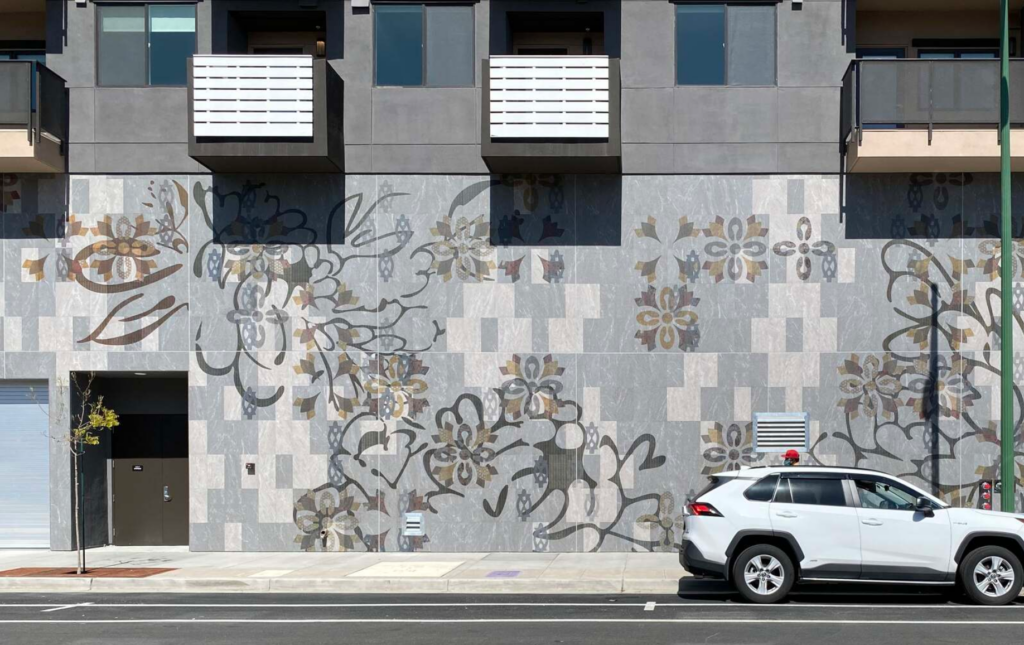 Interwoven, 2020, Alice House, Oakland, California, printed ceramic tile architectural facade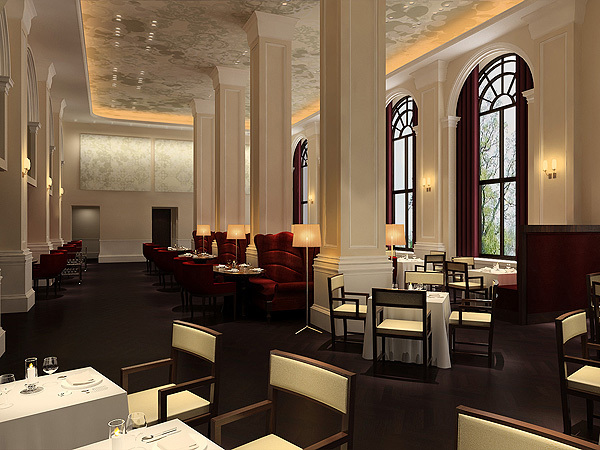 Ceiling of the W Hotel (currently the Hotel Washington), Washington DC, 2006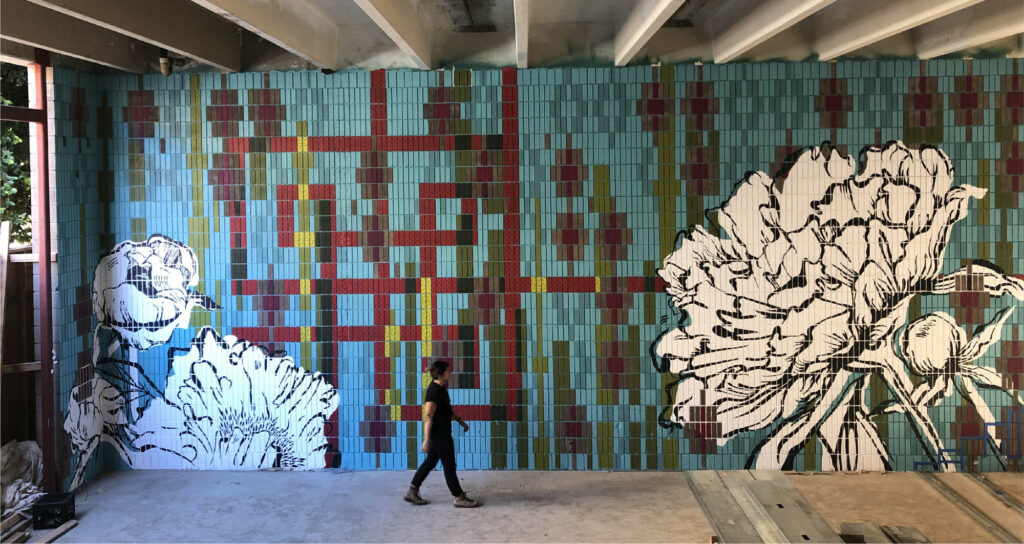 Maiden's Dress, 2019, San Francisco Arts Commission, Willie Woo Woo Wong Playground, San Francisco, California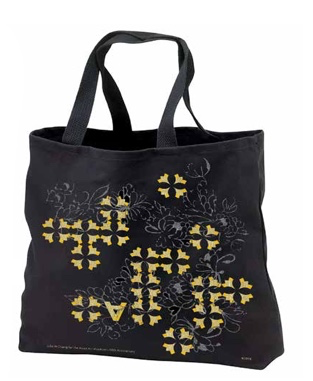 Commemorative Bag for Asian Art Museum's 50th Anniversary, 2016, San Francisco, California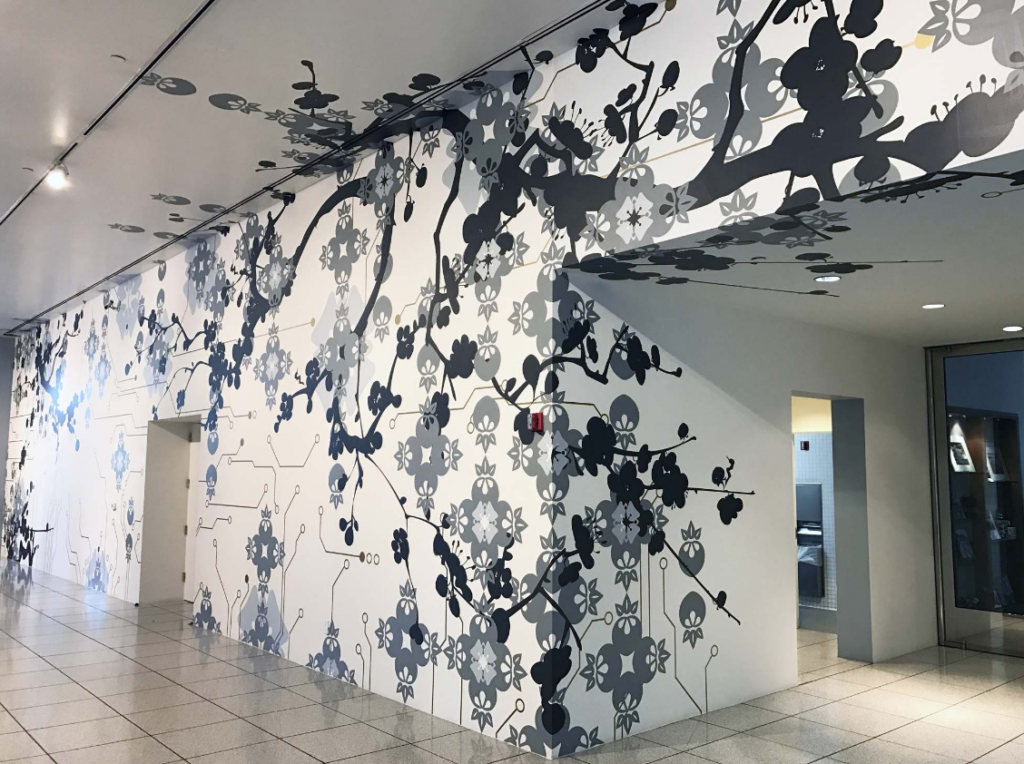 The Valley of Heart's Delight, 2017, San Jose Museum of Art Cafe Installation, San Jose, California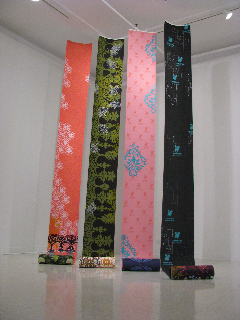 In Pursuit of Beauty, November 7th, 2008 – January 24th, 2008, Montserrat College of Art Gallery Beverly, Massachusetts
Relevant Terminology/History
Terrazzo is a composite material, poured in place or precast, which is used for floor and wall treatments. It consists of chips of marble, quartz, granite, glass, or other suitable material, poured with a cementitious binder, polymeric, or a combination of both. Terrazzo can be traced back to the ancient mosaics of Egypt. It is often found in Art Deco and Moderne styles from the 1920s to 1940s which favored terrazzo with dividers allowing for straight or curved lines that increased the decorative potential.
Anamorphosis is a distorted projection that requires the viewer to occupy a specific vantage point, use special devices, or both to view an image.
Learning Guide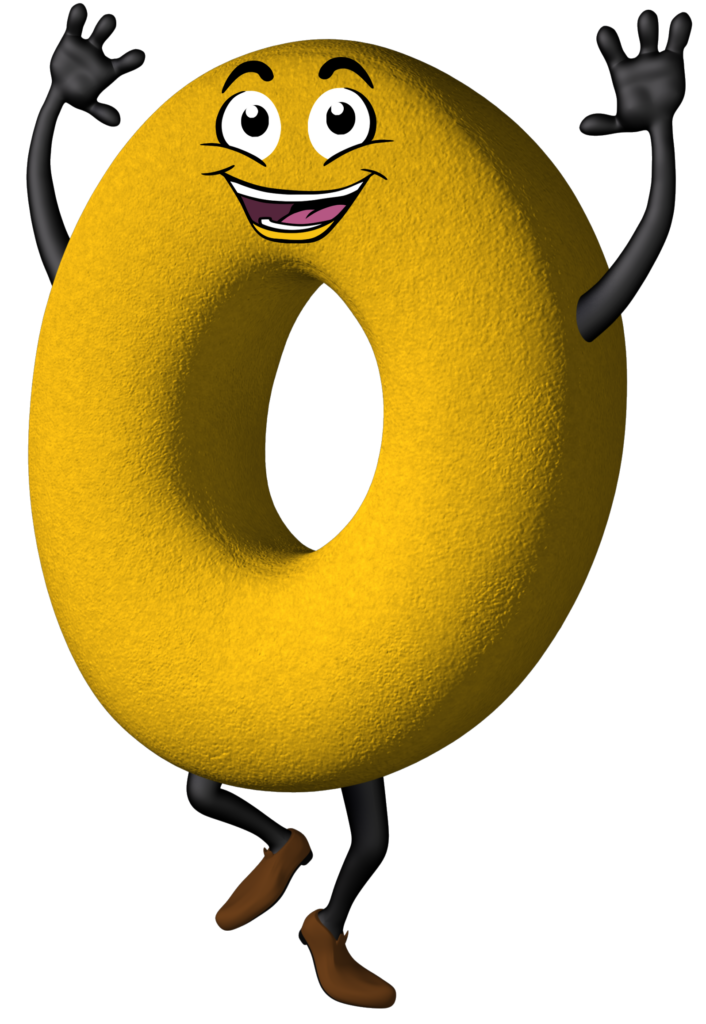 What do you think the title has to do with the art?
Why do you think Number Character 0 is speaking about the art?
What is your response to the question Number Character 0 asks about how the photographer took the anamorphosis photo?
How does the shape of the red image with white numbers relate to the art? Can you find the shape in All The Way Home?
How does the hidden blue image relate to the art?
What differences do you see between the central image of the original blueprint drawing (right side of the spread) compared to the installed art (left side of the spread)?
What do you think the blue circular arrow expresses about life?
What is the basic shape that forms beehives? What type of bees live in the beehive?
Have you ever seen a floor made of terrazzo? If so, where? If not look for them as you walk into buildings.